THE DANCER IS AT ONCE THE SCULPTOR, SCULPTING AND STRUCTURING SPACE, IN FORMS BOTH GRACEFUL AND POWERFUL. SHE IS THE PAINTER, ADDING TINTS AND HUES TO A LINE DRAWING, BRINGING IT TO LIFE. SHE IS THE POET, WRITING HER POEMS WITH MOVEMENTS, GESTURES AND EXPRESSIONS. ULTIMATELY SHE IS THE SEEKER, WHOSE DANCE BECOMES A TRANSCENDENTAL, TRANSFORMING EXPERIENCE - A JOYOUS PRAYER WITH ONE'S VERY BEING. - ALARMEL VALLI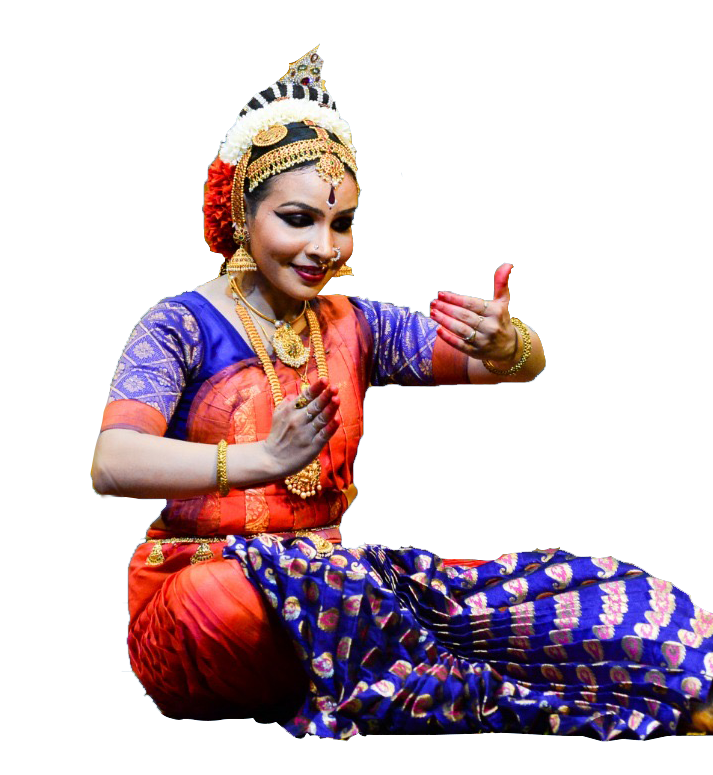 Presently Kalamandalam Krishna Sreejith is director of Natyakalpa Dance Academy, having branches in Mussafah & Banyas.
She commenced her dance studies at a tender age of four, under her mother Mrs. Kalamandiram Shobha Krishnankutty. To further her dreams of being a full-fledged dancer, she joined Keralakalamandalam and received eight years of rigorous Gurukula training. She then carried out her Post Graduation in Performing Arts (Kuchipudi) from the Hyderabad Central University & Completed M Phil in Kuchipudi at University of Madras. She also underwent training at well acclaimed Gurus like Dr. Anuradha Jonnala Gadda (well known dance academician and professor at the University of Hyderabad), Kalaimamani Shailaja (Artistic Director of Shailasudha dance academy, Chennai), Vempati Ravi shanker ( Kuchipudi dance academy, Chennai).
Krishna had been a part of many esteemed performances held at reputed venues like, opening ceremony of the Hannover Messe 2015 in Hannover Germany from April 7th, 2015 to April 18th 2015 in the presence of honourable Prime Minister Mr. Narendra Modi.
Honored with Title "Nrithyavilasini" at Jaipur Nrithanrithyathi Indian Classical Dances Festival held at Raipur India on 8th of April 2017. Chaumahalla palace, Shilparamam- Cultural Village of Andhra Pradesh (in collaboration with Japanese dance troup) Kerala legislative Assembly TVM, Ravindra Bharathi , Hyderabad in relation with Tagore's 150th birth anniversary celebrations, Andhra bhavan Newdelhi (cultural fest of A.P.), Tirupati Venkateswara temple( in relation with Brahmotsava), 25th anniversary celebration of Dooradarshan, TVM. And also in numerous cultural centers in India.
She also had participated in a number of national and international training programs and workshops on various subjects like Natya sastra, Choreography, Yoga and kinesiology, Art history and on various dance forms lead by stalwarts and organization of the field such as Dr. Padmasubramaniam, Paul Taylor Dance Company (New York), Guru C V Chandasekhar, Guru Narasimhachari, Guru Dr. Nataraja Ramakrishna, Guru Vedantam Rataiyya Sharma, Dr. Papu Venugopala Rao, Dr. Davesh Soneji, and Dr. Swapna sundari etc.Her recent choreographic production was on Sree Sankaracharyar's Soundarya Lahari, the fascinating piece was a product of her intense research of two years. And the first opening ceremony was held at Samkrama Sandhya, Guruvayur Temple. Now she is pursuing Ph.D. under Kerala Kalamandalam Deemed University.